Islamabad - Authorities in Pakistan said Wednesday a pre-dawn counterterrorism military operation in a turbulent northwestern district had killed 12 insurgents linked to an extremist banned group, which allegedly operates out of Afghan sanctuaries.
The military identified the slain men as "terrorists" from the Tehrik-i-Taliban Pakistan (TTP) or the Pakistani Taliban, an offshoot and ally of Afghanistan's ruling Islamist Taliban.
The army statement noted its "intelligence tentacles" had enabled security forces to intercept and eliminate the TTP insurgents in Lakki Marwat, a violence-hit district in Khyber Pakhtunkhwa border province.
"Weapons, ammunition, and Afghan currency were also recovered from the terrorists during the operation," the statement said.
The anti-terror military action comes amid a spate of TTP attacks in Pakistan in recent weeks that has killed hundreds of people, including security forces, and strained Islamabad's otherwise friendly ties with the Taliban regime in Kabul.
Pakistan to Taliban Chief: Rein in Militants
The central spokesman for the Afghan Taliban has again rejected allegations that cross-border terrorism in Pakistan is emanating from his country.
"The Islamic Emirate is making all possible efforts to counter activities on Afghan soil that could be detrimental to others," Zabihullah Mujahid told VOA by phone, using the official title for the Taliban administration in Kabul.
However, Mujahid urged Pakistani authorities to desist from "swiftly" pointing fingers at his country for domestic acts of terrorism even before thoroughly investigating such incidents.
"We seek peace and security in both countries. We have seen the destruction wars caused in Afghanistan and we don't want anyone, including Pakistan, to suffer from it," he said.
"Pakistan is a close neighbor, a friendly and brotherly country. It is an important relationship for us, and we would never want to spoil it."
Mujahid added his administration would welcome Pakistani officials if they intended to visit Afghanistan for counterterrorism discussions and cooperation.
Last week, a powerful bomb blast at a mosque in the highly secured police headquarters in Peshawar, the capital of Khyber Pakhtunkhwa, killed nearly 100 people and injured many more. The victims were mostly security forces.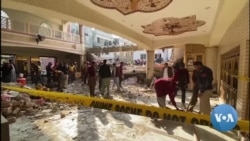 Embed share Victims of Pakistan Mosque Suicide Bombing Were Mostly Police, Officials Say Embed share The code has been copied to your clipboard. width px height px
No media source currently available
TTP denied its involvement in the bombing, but Pakistani officials blamed the group and renewed calls for Kabul to rein in the insurgents, further straining bilateral relations.
The Taliban retook control of Afghanistan in August 2021 as the United States and NATO allies withdrew from the country after two decades of war with the then-insurgent Taliban. The hardline group has since imposed harsh Islamic laws based on its own interpretation of Islam to govern the country, barring women from work and education.
The Pakistani Taliban, designated as a global terrorist organization by the United States, has long been waging terrorism in Pakistan. The violence has killed thousands of people, including civilians and security forces.
TTP seeks to establish a Taliban-style Islamic Shariah-compliant state in Pakistan through violence. Pakistani officials and religious scholars reject the campaign as anti-Islam and an illegitimate armed struggle against the country.
Recent United Nations assessments have suggested the return of the Taliban to power in Kabul emboldened the Pakistani Taliban.
Taliban Tell Pakistan Not to Blame Afghanistan for Mosque Bombing
There are some 4,000 TTP fighters based in Afghan areas bordering Pakistan, and they make up the largest group of foreign fighters in the conflict-torn country, according to the U.N.
"The Pakistan Taliban has been scaling up its attacks over the last few years, mostly targeting security forces in rural areas near the border," Michael Kugelman, the director of the South Asia Institute at the Wilson Center in Washington told VOA.
Kugelman said the growing terror threat was not good news for Pakistani leaders' efforts to tackle a severe economic crisis and a lingering political turmoil in the country


Delay in Reforms Puts Pakistan's Economy in Crisis
The violence, Kugelman said, "will deepen pressure on the state to launch a new counterterrorism offensive that has been resisted so far due to economic stress and a preference for talks with the militants," he said earlier this week in a written response, commenting on the wake of rising TTP attacks. "Even if those talks are essentially dead in the water," he said.